RYAN WOODS (Vocals, Guitar)
Ryan Woods started his musical journey at age 11 with classical piano teacher, Brenda Funk, by learning classical pieces and performing locally in town halls and theaters. At Age 16, Ryan began crafting his skill as an artist and singer/songwriter while performing his own music in local bars with older brother, Derek. At 18, Ryan became a student to a multitude of blues and jazz greats after studio sessions with his father, such as "HoneyBoy" Edwards, Hubert Sumlin, and jazz great, Bobby Lee Rodgers. Son of Blues Hall of Famer, Tim Woods, Ryan has tried to fill those shoes at a young age. It was around this time when Ryan began performing with family collective music project, "W.F.B." performing at many festivals, community events, and the like; Ryans also has solo acoustic performances at open mics and local coffee shops as well as other events which are close to his heart in the area! Ryan continues performing in his 4th year as singer/guitarist of HABATAT. He aspires for greatness and plays for the people; and sees 2017 as his year for personal, musical, and professional growth…

---
---
KRIS LUPHER (BASS)
Growing up in a live musical environment south of Pittsburgh, PA, the Church of love and Music had an extremely large influence in Kris' own style and taste as a musician. Watching acts like George Clinton for example; Kris knew music was his calling. As a hand drum enthusiast, the rhythmic transformation to the bass was natural at age 15. He became a member of the South Carolina based band, Alive the Ruins, in late 2008. Enjoying southern metal but feeling the calling of the groove, Kris began to lay the groundwork for HABATAT in early 2012. Additionally, Kris works in Audio/Lighting aspects as well as performing rock, and funk with groups locally. Cultivating his own styles of each allows him to stand as a foundation for the HABATAT musical experience…

---
---
J.BANKS (DRUMS)
Since picking up his first pair of sticks at 12 years old, J.Banks has been all about the groove. First playing in the churches at age 15, improv and the art of listening are foremost to his playing.
23 years later, and constantly learning, he's been in 11 projects with a variety of success; including multiple national US tours, international touring, TV appearances, 6 full length ep's, and 2 full production music videos. Experienced in funk, reggae, ska, rock, soul, second-line, fusion, bluegrass, and country, J.Banks brings the heartbeat and energy the groove needs to make that booty shake!!! Endorsing Vater sticks and Evans skins, Hhe's an accomplished studio drummer & percussionist recording/producing out of his home studio (•theBeatLab•), as well as many local Pittsburgh Recording Studios. See his full resume/contact info @jdrummerbanks on the social platform of your choice.
​
"My main focus is to grow and create in all aspects as a professional musician."

---
---
JOSH COVERT(Guitar/Trumpet)
Josh Covert brings his eclectic style and versatility to the Habatat frontline. He is an active performer,composer, arranger, clinician, an IUP music graduate and former music educator. Josh has performed with ensembles on three international tours, sung with the Bach Choir of Pittsburgh, soloed with the Johnstown Symphony Orchestra, was a tenured member of the rock and roll horn band Flood City Brass, conducted the Greater Johnstown Community chorus and directed fourteen musicals. Current other gigs include guitarist and arranger for Scott Jeffrey's Augmented Triad, vocalist/guitarist for the acoustic act 7 Hands Around and assistant director/drummer/worship leader for the First Cambria AME Zion Gospel choir in Johnstown. Josh is a consummate student of his craft, taking every opportunity to learn from others to improve his own understanding of music. Above all else, he strives to be true and authentic to his artistic passion, whether it be on guitar, horns, or vocals, in whatever capacity required.

---
---
Powered by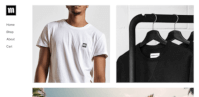 Create your own unique website with customizable templates.